Ever wondered how in the world a festival is put together? As we prepare to head to Oregon Eclipse in August (soon!), we had the chance to interview Marsi Gray, the Content Producer for Oregon Eclipse Gathering who is also a producer for for Lightning in a Bottle which we attended in May.
Oregon Eclipse is a 7-day festival experience located in Big Summit Prairie, Oregon. The festival will take place during the weekend of the total solar eclipse that is happening on August 21, 2017. Most of our favorite music acts like Bassnectar, Shpongle, Coco Rosie, Minnesota, Ayla Nereo, Random Rab and many, many more will all be performing at the festival.
In this interview, Marsi tells us her life-changing inspirations, how she got into festival production and what to look for at Oregon Eclipse in 2 weeks.
Marsi's Background
Who are you?
I have been a producer since 1998, starting my career in Los Angeles in a hybrid ad agency/production company and worked in film, TV, commercials and high end post production while freelancing and on staff at companies in LA. For a 2 year stint, I was head of production at a corporate event company.
How did you get into festival production?
In about 2005, I attended a presentation of Gregory Colbert's "Ashes and Snow while it was touring in the US. I was brought to my knees in the moment I walked into the space they created. I never knew how much a person can be moved, touched, shaken up by a curated experience.
Since that moment, I have been very inspired to co-create experiences that move others, change lives and cause impact. I began exploring working on events, first smaller events in a creative space I was living in, and then larger, more community based events.
"Since that moment, I have been very inspired to co-create experiences that move others, change lives and cause impact."
In 2006 when Do Lab began Lightning in a Bottle as a festival experience, they asked me to work with them, as I had been collaborating on art projects with them for years, as well as having known one of the brothers from my commercial producing roots. I always worked full time in production in LA while doing LIB on the side. Finally, in 2012, I moved into full time festival production. I began working with the Symbiosis crew in 2013 which has been very rewarding and creatively fulfilling for me.
Can you tell us more about "Ashes and Snow" by Gregory Colbert?
"Ashes and Snow" is a multi-media art exhibition in a traveling gallery. The architecture for the gallery space was built out of shipping containers and the curtains to get in were recycled tea bags, something like 40 feet long. Every detail was attended to in shaping the space for the artwork of Gregory Colbert to really have its full impact. Inside the viewer saw stunning imagery of animals from around the world, often interacting with humans in otherworldly, serene photos. At the ends of the gallery space, there were projected films of Mr. Colbert's work.
Inspiration
What are some art pieces that have left a lasting impression on your life?
What was your first festival experience?
The first art and community festival I attended was Burning Man in 2001.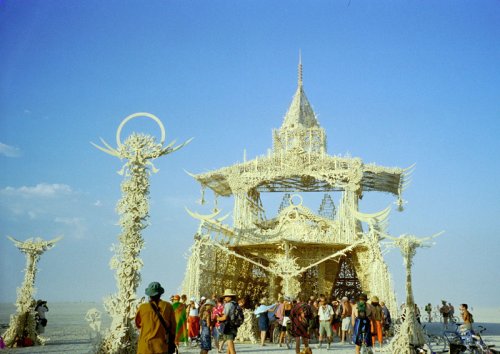 The Temple of Tears at Burning Man, 2001
How was it?
I was completely blown away by the creativity, by the ethos and the community. I think there is something that has happened organically out of the "Radical Self Expression" principal that they hold, that moves me in ways I don't have all the words for.
What I observed is that through this idea of radical self expression, there is a releasing of judgment of others, and in that space of acceptance, we as humans have this opportunity to play with expression… First tenderly, timidly, like a baby deer… But then as we explore and gain in confidence, magic begins to happen.
"I have watched people hone these expressions over years and become excellent, fluid in their expression, shine brightly."
I have watched people come into this community, brand new, and get their baby deer legs under them in some form of expression, photography, art, hooping, dancing, producing music, etc. I have watched people hone these expressions over years and become excellent, fluid in their expression, shine brightly. This is one of the greatest, most awesome things I have had the joy to witness. So, my first festival experience helped me to observe this, helped me to create a community of beloved vixens who hold my heart so.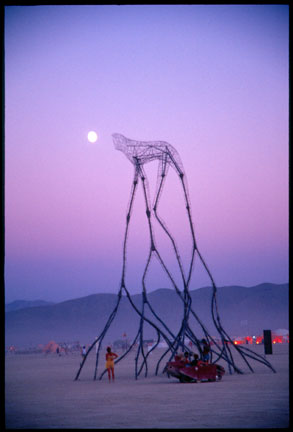 Flock by Michael Christian
I also remember seeing Michael Christian's piece "Flock" at that event, and I was SO blown away by the scope and scale was so inspired by that piece. Now, 16 years later I find myself in a space of having the opportunity to work with Michael and other artists who have deeply moved me over the years.
What kind of impact do you want to see from your production and curation of experience?
I am exploring how to touch people through experience. I don't feel that it is up to me to try to cause a particular impact as we all receive things in the way that our unique lives and filters allow us to. At the core of it, my intention is to touch people's hearts.
Oregon Eclipse
I am the Content Producer for Oregon Eclipse Festival. What this means is that I work with a team of very talented artists, creators, curators, designers and builders overseeing all the pretty stuff, the interactive stuff, and much of the educational things within the festival.
What is the process on that?
Ultimately, how I do my work is by surrounding myself with complete rockstars and visionaries, and together we weave magic and exquisite expression into the air around us with the intention of moving, surprising and inspiring our community.
How many attendees are going to Oregon Eclipse this year?
My understanding is that our community will be in the neighborhood of 30,000.
Any reasons for this number?
This number is based purely on response. There has been a lot of excitement about this event and the global community is gathering to come out and play together.
What are the most challenging parts about what you do for Oregon Eclipse?
This is quite a remote location that we are working on. There have been crew on-site since May, and planning around logistics for a couple of years now. This presents opportunities to look at things with totally fresh eyes.
Most rewarding part?
The most rewarding parts of what I do for Oregon Eclipse is the deepening of existing relationships, and forging new bonds within the community. I have the deep honor of communing with critical thinkers, makers, dreamers, amazing curators, presenters, chefs and builders. To have the opportunity to connect with these folks and to hear their vision, and to support bringing more beauty in the world is so humbling and such a gift.
What do you look for when selecting vendors who are going to be at Oregon Eclipse?
We look to create a broad offering of food and marketplace stalls that are unique, special, and created with care.
Oregon Eclipse has a ton of collaborators. What does each collaborator bring to the table?
The collaborations between the other festivals work in different ways. For some, it has been consulting and marketing, some folks collaborated on music curation and others are bringing full immersive experiences to the table. It has been really exciting to work on an even more global scale than we already have been and getting to know these partners.
The non-music program line up is amazing. Any artists/installations/speakers/ instructors that you are particularly excited to bring to Oregon Eclipse?
I'm super excited about the Village Witches experience that Envision is bringing. I am also really inspired by the work that the 1Nation Earth Camp is bringing forward. Meow Wolf from Santa Fe are coming and bringing an interactive installation and I have a huge creative crush on them! The Solar Temple that is being built by Bamboo DNA is shaping up to be an extraordinary creation. The Furtherr collective is bringing another live painting amphitheater, which I am excited to see. Additionally, there are a few surprises I don't want to reveal at this moment that you will have to wait and see about!
Other areas we should be on the lookout for?
Keep your eyes and hearts open to following the mystery and finding yourself drawn to what you are meant to experience.
What's the reason for making the festival kid and family-friendly?
We are clear that children hold our future in their hands. It has always been important to the Directors of the festival to honor family and support the inspiration of the children in our community.
Personally, while I feel we are here to support and guide them, they have much to show us and teach us as well. Many of our community members, including much of the core production staff and directors have begun having families as well, and as this begins happening in a community, I think it changes the focus for the broader collective.
Is there a message that Oregon Eclipse would like to share with the Lookbook community?
I don't want to speak for the Oregon Eclipse as a whole. The message I would like to share with the Lookbook community is that I hope you come. I hope you come, heart open, ready to give to others. I hope, too, you are ready to receive. I hope you come and share your beautiful hearts. I hope you experience moments that take your breath away from the beauty of a connection, of an experience, of this beautiful land. I hope, in some small way, through the weaving of my offerings with those around me, I can touch your heart.