Visit me here: fashionexplorer.net/2013/01/12/thrift-find-of-the-week-mcqueens-waxed-stretched-black-skinny-jeans/

Street Belle Fashion Giveaway (Valid dates: 1.12.2013 - 2.6.2013)


I love leggings. There are several chic ways to it. I could wear it with an oversized sheer shirt , wear it under a too-short dress or with a longer party top. If I don't want to wear heels, I could just add plain sneakers or flat sandals to complete the no-fuss ensemble.
For all leggings lovers like me, here's a special giveaway for us :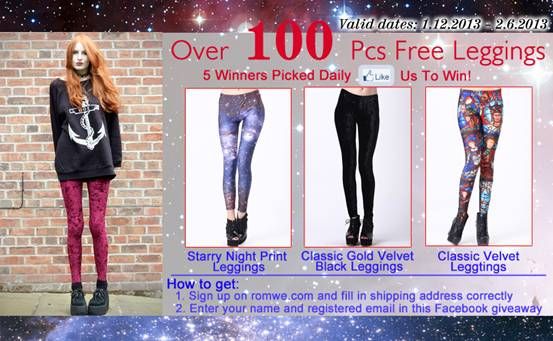 What I love about these ROMWE leggings are they're uniquely designed with punch of color and print. These kind of leggings add instant pizzazz to your look, making everyone stare at your super-simple ensemble — in a good way. Promise. So, how to win one of these leggings?
Over 100 pics FREE leggings, 5 winners picked daily
.
Valid dates: 1.12.2013 - 2.6.2013.
The giveaway is only valid on
Street Belle Facebook page
!
1. Register on
romwe.com
:
2. Leave the registered ROMWE account and go straight away to
Street Belle giveaway page
http://www.facebook.com/pages/Street-Belle-Fashion/430590370345649?sk=app_200328890006489
Note:Make sure the shipping address on Romwe website is valid to get the package successfully, they'll don't send twice to the winners!