Hi, LB folks!

I've been busy already since last Wednesday and what's sad about it is that my last post here was FLAGGED by I don't know who... Sad but I don't want to meddle with it for too long. Unfortunately, I wasn't able to save the copies of all the pics for my previous look and I wasn't able to make a back-up copy as well... T.T

Well, as Ms. Lucy, one of our fellow lookbookers here told me, "...some people can be so mean. But don't let that discourage you, use it as motivation to do better! U have great looks, so keep it up! :)"... This kind of messages from you, my loyal supporters, give me the PUSH to make it better in posting looks; not just half baked just to say that I post something to get some hype and earn karma, but to let you guys know that your SUPPORT means something to me and as a return I have to give you better looks (hopefully) which can inspire some of you or at least give you some pointers since I am always putting details on them.

My two previous looks wasn't that strong, I guess but I am happy that still those who are constantly there to give comments, hypes and hearts are still there to give a pat at the back...

As I've included in the description of my FLAGGED look, I told you guys that it will be the last time that you'll see my hair like that, because just a day ago, I decided to cut my hair and it's my first time since I was in Highschool that I shaved the sides of my head... Hehehe...

How does it look guys? Appreciate your comments... In my new work, of course I don't style it this way I just make it neat; just applying some wax and combing it sideways... Hmm... I think I also have to post a look with that hairstyle. So here I just do the Sharky Boy style, as I call it. Hehehe.

Now let's go to details of this look:

I wore a very comfy sleeveless shirt from H&M, which I really buy right after seeing it last Monday... Hehehe. Impulsive buying has benefits sometimes... At least I get to have the last piece for my size... Lucky me again... I don't know but American flag prints looks good in my eyes nowadays, maybe because I do have dreams of getting there and maybe study advance photography (if I'm only rich ):)... But still, my American dreams are still on and hopefully I can save BIG money to fulfill that... I love how they print the stripes and stars in this shirt.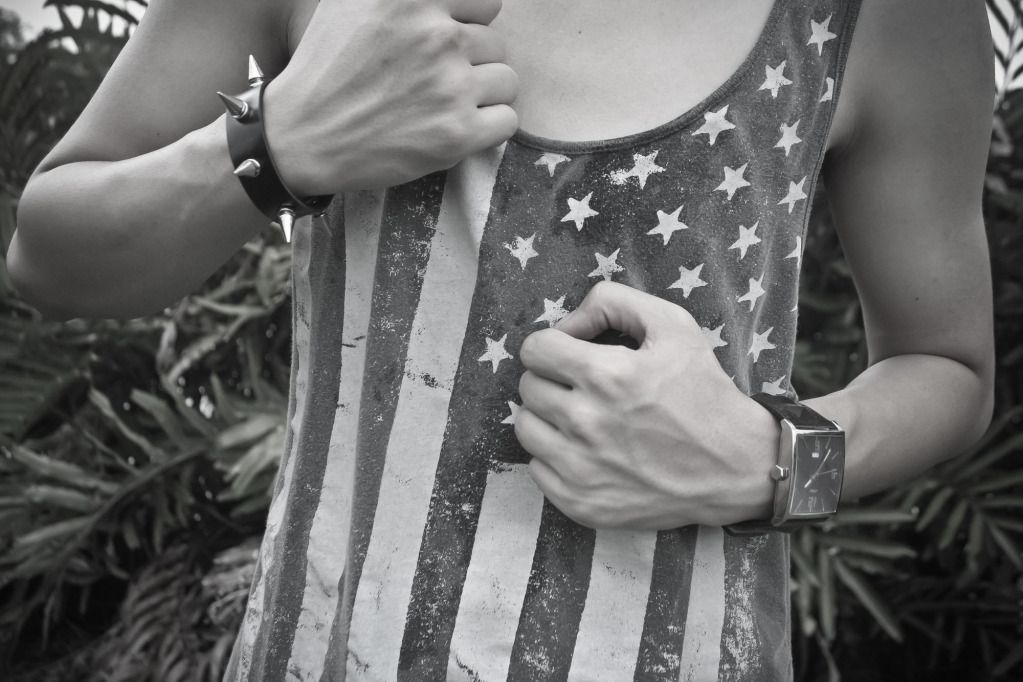 Then because I really like the Uniqlo Twill shorts that I just bought last time, I bought another color again... It's really confy also and convenient to wear since it doesn't have zipper and button. I just folded it the way people here in SG do it... One reason is because it's really hot when you're outside the streets...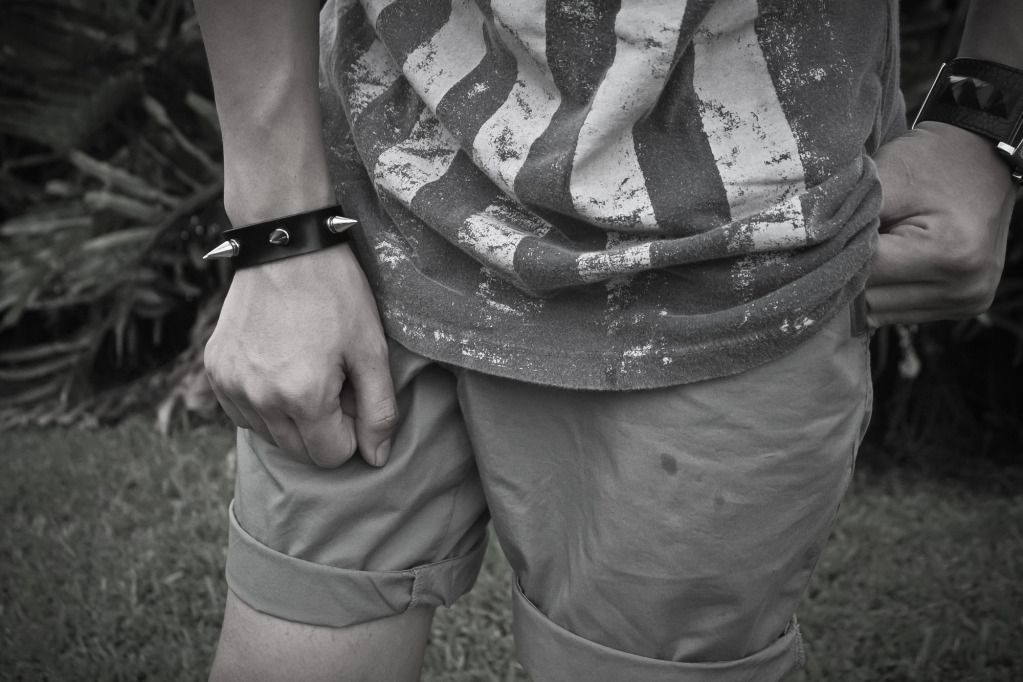 And since I don't have accesories, when I was walking along a mall in Orchard, I came along this funky accessories shop then saw this Spiked leather bracelet... Didn't know why I bought it since it's not my personality wearing stuff like this. Hehe... But I was amused by it and end up buying it, just asked the seller to give me discount, just a wink and smile closed the deal. Hehe.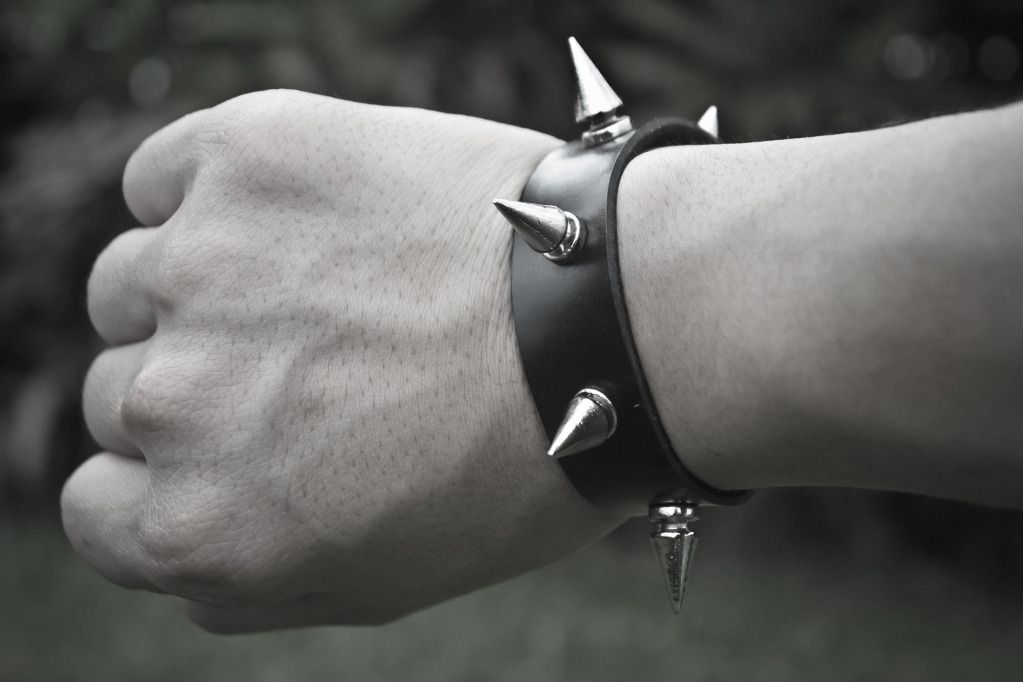 Then I wore the leather watch that was a gift from my GF's mom... It really looks cool because of it's enormous size which sometimes my friends call the "Wall Clock" wrist watch. Hehehe... It also has amazing details in it like the leather spikes which gives it an edgy look. I seldom wear this one since it really catches attention and it's quite heavy. Hehe. But I love it!




Then I used my Batman Chucks again which I already wore in my 2 previous looks... I think it can match most of the clothes I wear during normal days when I just go out to stroll... If you want to see the details of it, you can check it out in this look: lookbook.nu/look/3843395-Chasing-Cars

So that's it for now... i hope this one can regain the hypes, hearts and fans that I lost form my previous post and I am hoping that you guys continue to support me even though I won't be that visible for the next days in the LB community. FYI, My job requires me to work 12 hours with just an hour break... @.@ Tiring but at least compensating than my work before. So when i'm away and doing my stuff at work, feel free to send the overwhelming support thru your hypes, hearts, comments and fanning. Hehehe.

I hope you also like my serious or should I say grumpy expression look here (this one goes out to the one who flagged my AstroBoy look)... Haha! Just kidding... Peace out!

I will miss you guys! 'til my next post...